Hedera A31
REVIEWS FROM OUR GUESTS
Chris
September 2019
We loved this Airbnb, and would recommend it to anyone! Great location, but the apartment is still quiet. Beautiful space, and updated amenities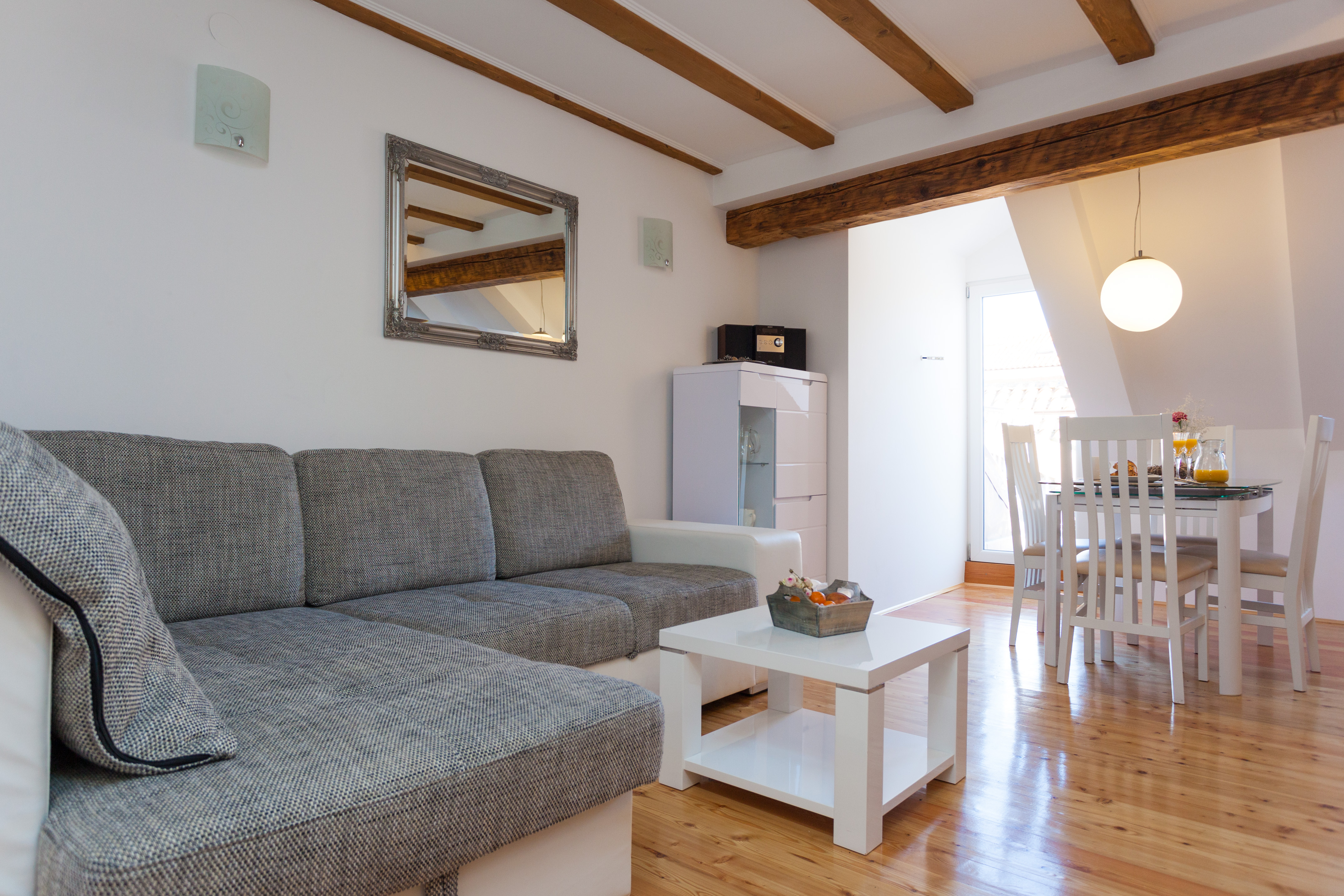 Sean
July 2019
Unit was really great in a nice area of old town, very little noise from the street which was kind of amazing, communication was very smooth, the check in was really straight forward with people coming to meet us at the gates and help with luggage and the team managed ferry and airport transfers for us.
John
August 2018
Great find in central Dubrovnik! Great space and the AC was a game changer on the hot days. Patio was perfect and perhaps under represented by the host. We enjoyed multiple nights taking in the city air and coffee in the morning. Would go back without hesitation.
Calum
July 2017
Great location really friendly staff. Would recommend the airport transfer; great value for money and fantastic local advice from the driver.
Brandi
June 2017
Wonderful experience! After my phone died without a way to charge it or contact reception to inform them our bus was late, we arrived late and were welcomed with a smile and warm hospitality. The flat was perfect, beautifully styled, and right in the middle of the old town. They accommodated us with a late check out for an extra fee, which we were grateful for as our flight didn't leave until 3. Highly recommend this beautiful location in this beautiful city with these wonderful people!
Cynthia
May 2017
We loved this apartment in the heart of the Old Town, DUbrovnik! Everything we needed was there (full kitchen with cooking pots and plates, etc; modern clean bathroom with lovely large shower; washing machine; romantic bedroom with comfy bed; air conditioning; couch and large screen TV. We loved opening the skylights or walking out on the balcony to enjoy an amazing view over the rooftops! At night, the nearby churches and domes were lit up; in the mornings the swifts were flying and calling sweetly to each other. An absolute jewel!!
May 2017
Parfaite localisation, pile au milieu de Dubrovnik et sans aucune marche pour y accéder (à la fin de la journée c'est appréciable) ! Propre et moderne. Le personnel est adorable (surtout notre chauffeur pour nous transporter depuis et vers l'aéroport). Un très beau sejour !
May 2017
Comfortable apartment right in the centre of the old town with stunning views of the town's rooftops. Loved our stay here.
April 2017
Loved our stay at this location! Easy check in check out! Airport pick up and drop off recommended. AMAZING location in old town. Away from the bars and loud night life but close enough to be right in the middle of all of the action. I can't believe how amazing this team was to work with! There are quite a few stairs so I could see mobility issues but other than that I would highly recommend this accommodation to family and friends! Thank you!
Joanne
April 2017
Looking out of the window across the rooftops of the old town and hearing the church bells...so atmospheric
Olivia
October 2016
The arrival was very smooth as you meet at their easy to find offices then they take you to the apartment. The apartment is lovely, clean and just as it looks in the photos! The host gives you a phone so if you need to communicate with them during your stay you can but nothing went wrong for us so we only used it to arrange the checkout. The location is great - right in the middle of the old town.
Sam
October 2016
Fantastic place to stay. Kindly gave us a transfer from the bus station. The apartment is beautiful, and extremely convenient, right in the centre of old town. Would stay again.
James
September 2016
The whole experience dealing with this host/company was great - I would 100% recommend. We arranged with the host to be picked up from Dubrovnik airport. The driver we had was great (I wish I knew his name) - he was on time and had a great knowledge of the area which he shared with us on the way. As my 1st time in Croatia this was greatly received. I believe he regularly works for the company. The staff at the office we again informative and friendly and described things to do in the local area. They give you a local mobile phone that you can use if you need to contact them which is a nice touch. I had requested an earlier check in due to an early flight and the room was indeed ready for us when we arrived. They took us to Old Town by car to locate the apartment. The apartment was just as described and I can't fault it at all - clean and in a great location. The balcony and roof hatches are very nice features on the property. On departure we were met at the apartment where we checked out.
Iris
August 2016
The apartment was nice and exactly the same with the photo, clean and super convenience, u can easily reach everywhere in old town. Recommend to stay in this apartment, the air conditioner is very good
Samantha
August 2016
Clean, well equipped appartment, and great location. Loved getting a mobile phone with the appartment so you can call free to the office for any questions, transfers, restaurants and excursions.
Joan
July 2016
Trato excelente por parte de la agencia, proporcionando un teléfono móvil a nuestra disposición para cualquier urgencia. Personal preparado, puntual y amable.
Lilian
June 2016
Fantastic place right in the middle of old town. The reception is located about a 20 minute walk from the ferry, but if you can get yourself there, the reception will drive you to the apt. The apt itself is very clean and new. Close to everything, sits on the top floor (refurb attic) so there are a few stairs to walk up.
October 2015
It's more "commercial" and is run like a hotel - it's not a bad thing at all, just something to be aware of. You checkin at their office which is really easy to find then they will transport you to your apartment and show you around. Everyone was super friendly and really helpful! They were really accommodating and even offer an airport shuttle upon checkout. The apartment itself was very clean, modern and had an amazing view from the deck as it's on the top floor. It's central to EVERYTHING in old town. You walk out the door and within 100ft you have some of the best restaurants in Dubrovnik. I'd stay here again in a heartbeat. Zach D.
September 2015
Very professional team who brought us by car to the parking (as we cannot enter with our car into old Dubrovnik) and then to the apartment. The apartment is very clean, functional and cosy. But not tailored to tall people as it's under the roofs! Esther K.
August 2015
We had a very good time! The apartment is comfortable and well furnished.( I loved the attention of all details!). It's located in the heart of the old town and it is perfect to easily visit Dubrovnik. I also appreciate the pick up from the airport and the Estate assistance at any time. I absolutely recommend this apartment. Laura F.
August 2015
We absolutely loved our stay in Dubrovnik and can't wait to come back again! Our location was perfect, central to everything with a cute terrace looking over all the rooftops. The place was modern, clear and equipped with all the essentials we were after and more! We couldn't have been happier with our stay at A31! I highly recommend this to everyone! Brooke G.
July 2015
"This is the 2nd time I have booked through Dubrovnik Apartment Source and found the service provided excellent. Thank you. Croatia is a beautiful country to visit and Dubrovnik certainly deserves the praise it receives as the Pearl of Croatia." SHIRLEY and KATE, CANADA November 2015
June 2015
The apartment is spotless and well taken care of. Walk out the door and be close to everything the old city has to offer without any noise. Kind of a shock to find a mosque (prayer room) in the building but unless you say the sign you would have no clue it was there. The only draw back is the stairs up to the apartment but in Dubrovnik stairs are a way of life. It is a great place in a great location. Denis L.
May 2015
We really enjoyed our stay in the old town. This apartment is quite small because of the sloped roof but very nicely set out and has everything you need. It is in a great location in the middle of the old town, there is a fantastic little restaurant a few steps away called Taj Mahal, the food there was the best we had in Dubrovnik. There is a little supermarket around the corner where we could get fresh bread and eggs every day for breakfast. Hash was our host and he helped us out with some great recommendations, there were some IT issues so we weren't able to book any of the trips and excursions through him but he did try and help us when he could. Overall we had a brilliant time and would definitely recommend the apartment to a couple looking for a good base to explore Dubrovnik. Jenny C.
September 2014
We enjoyed a very comfortable stay in the apartment, which is beautifully designed and laid out with stunning views from a lovely little balcony and all the windows. The bedroom is cosy and romantic and although the pitch of the roof might be an issue if you have mobility issues we found it fine as we usually remembered to duck. The bathroom is well proportioned and the kitchen is small but well equipped and laid out, but given the number of great restaurants minutes from the door you probably won't be doing much cooking. The location is perfect in the middle of the old town a few streets away from the main street (Stradrun) and the market square. Alma was very helpful in responding to our questions and arranging transfers. I would recommend this apartment as a perfect place for a couple looking for a romantic place to stay. Eleanor R.