House Hedera
REVIEWS FROM OUR GUESTS
Anni
July 2019
Private pool and the view was great. Air-conditioning worked well in all rooms. Villa works well for max 6 persons. Uber functions well to/from villa. However a car is definitely recommended for getting around.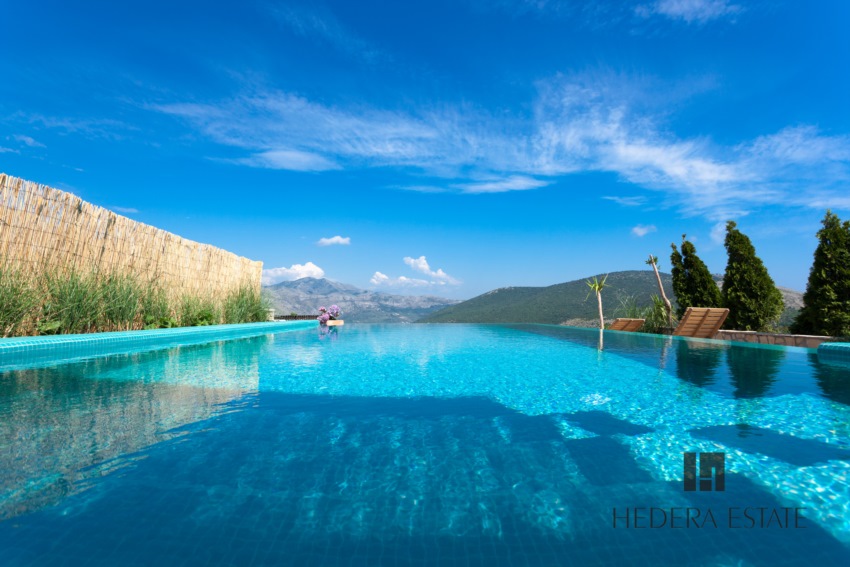 David
July 2018
The view and the pool was amazing. The villa had a lovely spacious living area and kitchen. Beautifully clean and well equipped. The adjoining house was empty so it was completely private and silent. It felt like you were in your own private wee island. The air conditioning was really effective. Nice touches like dishwasher tablets and washing liquid was there. Lots of towels, plates and every utensil you could think of. The outside space is well designed and very comfortable. Check out was painless, and the wee girl was really lovely and helpful.
Lauren
July 2018
Fantastic experience from start to finish amazing views just perfect
Alison
September 2017
This was a lovely house with amazing views. You need a car. It was clean and the pool was lovely. we really enjoyed our time here. Air con in the main bedroom on the first floor and in the lounge area. We would stay here again.
Lisa
August 2017
We loved everything about this property! The views from the villa were simply breathtaking and it was only 8-10 mins drive away from the old town (NB. it's not walkable as the villa is located high in the hills). There is everything a family could want/need in the property and the friendly and efficient agent is only a phone call away if you have any questions or problems or want to book an excursion. Supermarkets are within an easy car ride away and there are also some very nice restaurants to enjoy.
Tony
August 2017
Pool, view, modern, facilities
May 2017
I have seen some amazing apartments, but the view from this home was unparalleled. The setting made us feel like we were on top of the world and the outdoor space was one of a kind...
Jeremie
May 2017
This place is just amazing. If you are looking for a peaceful and secluded place to relax and enjoy an amazing view and swim in an infinity pool, this is for you. The staff is just awesome and the location is just 20 minutes from Dubrovnik. I totally recommend!
Andreas
September 2016
The stay was really great and we loved the view from the lounge and pool area! The pictures don't lie, it was as beautiful or even better than the pictures show. The rooms were good and the beds were comfortable. We couldn't really ask for more. Also very nice distance to Dubrovnik if you rent a car.
Aleksandra
June 2016
We were arriving late in the day but someone meeting us even that late and helped us to check in. The description of the place on the website is accurate. The place is about 10 min drive to old town of Dubrovnik. It has gorgeous views in the back yard, pool is s nice bonus in the hot day. The stores are far and you will need definitely a car. The area is quiet and safe. The place is equipped with all the necessities. We had a great time there and would recommend this place to other families.
September 2015
We had issues in finding it but the host was very good in coming out to meet us. This lace is just as incredible as the images suggest. The views over mitrovic and the estuary is breathtaking. The pool was very clean and was best enjoyed in the early part of the day due to sun. The house was well equipped and had coffee and a maker. Very nice stay - would stay again. Alex B.
Vanessa
September 2015
La maison est bien constituée spacieuse a l interieur comme a l extérieur. La vue est imprenable ! Barbecue a charbon a l'extérieur. Tres grand canape confortable sur la terrasse. L acceuil se fait en ville d'abord ou le personnel est acceuillant,ils donnent même un portable pour les contacter pour toute demande ça c est agreable !
July 2015
Cette maison est incroyable : une vue à couper le souffle, une piscine qui a fait le bonheur des enfants tous les jours, une localisation au calme, à seulement 10 minutes de Dubrovnik, et tout le confort nécessaire, y compris la climatisation. Très bon service. Les membres de la réception étaient toujours prêts à nous aider dès que nous en avions besoin, et avec le sourire. Nous y retournerions n'importe quand, et conseillons la propriété à n'importe qui ! Karine V.
July 2015
Una bellissima vacanza in una casa favolosa, in un contesto particolare ma tranquillo, con una vista magnifica. Piscina da lasciare senza parole come tutta la casa. Mattia A.
"Amazing, truly unbeatable, one of a kind! LOVED it..."
September 2013
My wife and I with our little dog rented this beautiful 2 bdrm duplex for 100euro per night in early September, what a deal. The agent Maro who brought me the keys and explained everything to me about everything on the place and Dubrovnik. We liked him and very helpful. It came with with fast, free internet, stereo, dvd and LCD tv with cable. Full kitchen, washing machine and freezer...and your own garage for the car. What a VIEW... unbelivable., you are way up on a hill with a winding road. Its quiet but you are 10 minutes from everything. the GPS took me You have both a quiet location yet in the heart of it all...WE LOVED IT! Customer Service 110% start to finish Colin F.
"Brilliant!"
August 2013
We stayed at this apartment for one week in August and honestly you cannot get a better view than from the back garden of this place! The place is clean and very well equipped. We were told that next year there will be a swimming pool too which my children cannot wait to return to! It is situated up in a hill so you will need a car but the seclusion is absolutely great for getting away from it all. We booked through Hedera Estate and the team here is fantastic from start to finish, highly recommended. Cant wait to return! Thu L.