Hedera A33
REVIEWS FROM OUR GUESTS
Tim
July 2019
We travelled as a family of 5 adults and stayed at this centrally located apartment. We had arranged airport pickup through the apartment representatives and were met at the Pile gate and escorted to reception and the apartment. The place is very clean and had all the amenities we needed for our stay. It is actually 2 separate apartments (1 Bedroom, 2 bedroom) that are across the hall from each other. Each apartment has its own living space, kitchen, and bathroom. Air conditioning worked very well, even on some very hot days. The location was fantastic because everything within the Old City was within a short walk. Inclusion of breakfast at a nice restaurant was also a great benefit of staying here. It is a 3rd floor walkup but after walking all of the other steps in Dubrovnik it never was a problem. I highly recommend Hedera Estate to anyone looking to stay in the Old City area of Dubrovnik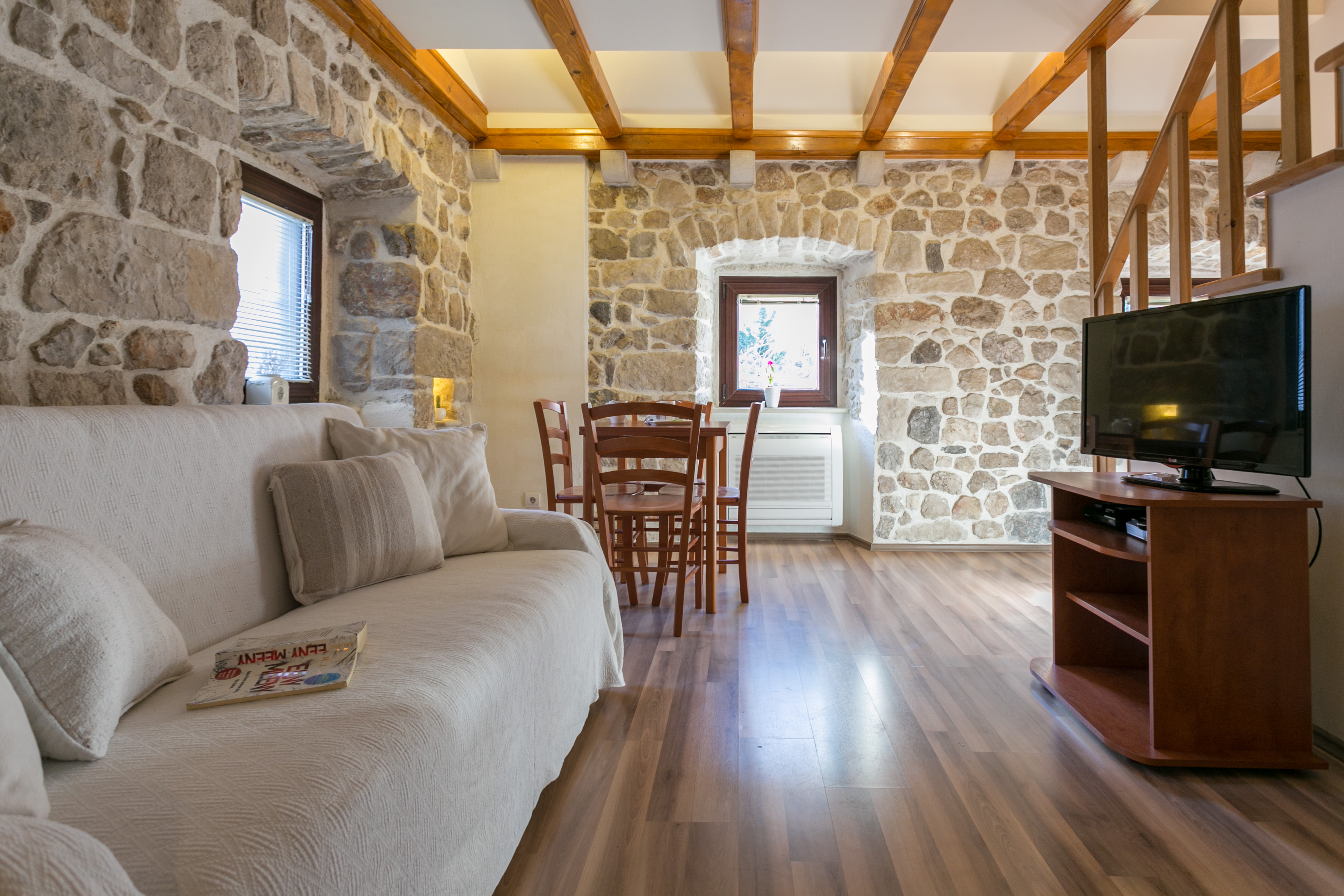 Rebecca
July 2019
Fantastic location, highly recommend this stay! Restaurants aplenty at the door, quiet, clean and very easy to access the best of Old Town.
Duncan
July 2019
The Villa has plenty of space and bathrooms. The views from three of double rooms is spectacular. The galley kitchen is a bit crowded if more than 2 people are in at one time, but that's not a major issue. The pool and outdoor area are lovely, with plenty of seating (we were a party of 11). The location is midway between Old Town & New Town. If you cannot do stairs, there is a constant bus service that finishes at midnight. Taxis from the airport are a flat 300hkn and 70hkn from Old Town. There are amazing restaurants nearby. I recommend Hedera Villas for larger groups.
Madisson
March 2018
The apartments were wonderful! Perfect location, right in the middle of Old Town with spectacular views out all the windows. Everything was perfectly clean and we had plenty of space! They gave us a phone at check-in in case we needed to reach them in case of an emergency or any questions. Quite a lot of stairs but that was only an issue getting our suitcases up and down. Would definitely stay again!!
Casey
September 2017
The location is AMAZING! The check in is at a different location, but they offer to bring you to the apartment, all while giving great tips of things to do and see. Cute loft style apartment.
Paulo
September 2017
Place is very well located and clean. The service to pick you up at the airport is very convenient, we were 5 people and it was a large van. We really recommend this place to stay in Dubrovnik
Sasha
August 2017
This apartment was one of the best I have stayed at. There were 6 girls and we couldn't have asked for a better setup. We had essentially two apartments complete with their own kitchenettes, bathrooms and washing machines. All rooms had A/C units and the beds were very comfortable. The apartments were clearly recently renovated and very modern. Very well taken care of. The check-in process is handled off site at a property management company but they were great, drove us to the apartment and showed us how to work everything. They even give you a cell phone during your stay to call them at any time should we need help or want to book something - amazing. The entire process was from start to finish was seamless and very comfortable. I have already told friends coming next month to stay here.
Reid
June 2017
This apartment was a perfect place to stay right in the middle of old town. I would definitely recommend it to anyone.
Dan
May 2017
Thanks for a great stay. Location ideal. Service great as part of a larger hotel network so really responsive.
Ji Won
January 2017
Do you want to meet the best host in Dubrovnik? If you want to stay at perfect place, right here! Perfect location, fantastic interior. You can feel the real Dubrovnik. And the host was really kind. The house was like my home.
Diegane
August 2016
Very nice appartment in the old town. Close from every nice spots of the city. Our host were very welcoming and very accomodating.
Theo
July 2016
Great place to enjoy Dubrovnik: spacious, clean and the most important thing, quiet.
Olga
April 2016
We were a group of 5 friends travelling from Greece. We visited Dubrovnik old town last week for a three night stay and stayed at Hedera A33 , two joined rooms that were very convenient for us. The amenities of the rooms were very satisfying and so was the location ,as it was very quiet , but close to all the restaurants , shops etc at the same time . Dubrovnik is a very beautiful city , with plenty of sights an things to do. It was very convenient that a driver from Hedera picked as up from the airport , especially since we arrived at night. We also planed with Hedera a daily private excursion in Montenegro and we visited Kotor. The walk around the walls of Kotor was an amazing experience which I strongly recommend if you ever get there. A very special thanks to our driver / guide Zoran , with was a great guy ! He gave us plenty of information about the history of Croatia and Montenegro , he was very polite , friendly and helpful with everything we needed. Overall we had a fantastic time.