Hedera A16
REVIEWS FROM OUR GUESTS
Kirsty
September 2017
The apartment is great! It is newly refurbished, very clean, bright and airy. There are lovely balconies overlooking the harbour and the hot tub is a must! We had a great stay. It is up quite a few steps from the harbour but we used Uber a fair bit so avoided them.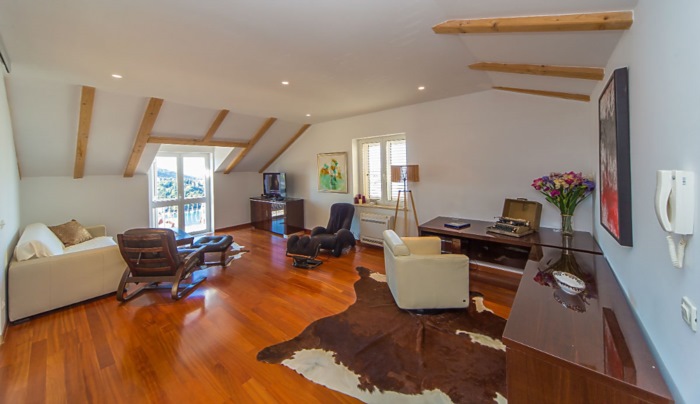 Julie
August 2017
This apartment was even more beautiful in person than in the pictures! Spacious, modern, clean, comfortable, with amazing views of the water and sunsets. It is approximately 1.5 mile walk from the apartment to Dubrovnik's Old Town but it's a lovely walk and we never took the bus (we preferred to walk). Yes, there are stairs but the stairs are very doable. We would definitely stay here again.
Christine
July 2017
maison luxueuse,vaste,dominant le port ans un environnement silencieux,spa sur terrasse tres agreable
John
May 2017
The views were fantastic! Facilities made the break and the host was brilliant.
April 2017
Great experience easy to find the office and a small drive to the apartment. Once we got to the apartment, we were amazed how nice it was with great facilities and outstanding views. We will definitely come here again. James
Marijana
August 2016
It was great, thank you for having us!
Sue
August 2016
We had a lovely stay in a beautiful apartment.
Catherine
July 2016
The apartment is situated on a very steep hill and was beautifully decorated and well equipped with stunning views over Port Gruz. The massage chair was a welcome addition after climbing the many stairs from the Port of Gruz. One of the two doubles had a small balcony and there was a small balcony off the living area. There was a larger terrace and hot tub a short walk down some steps however for us it wasn't used because of the summer temperatures being so hot. There was a small supermarket and pizza restaurant within 5 minutes of the apartment and more options down the bottom near the port. The bus stop is a short walk from the apartment and 10-15 minutes ride into the old town. There wasn't any swimming options within walking distance however the old port and Lapad had many fancy beach resorts to rent sunbeds from. We found this apartment really comfortable however due to the distance to the port and the amount of stairs it wasn't convenient to pop back to during the day. This is a well run company with many apartments for rent and the staff were very friendly and helpful.
June 2016
Great welcoming & organisation! Great location! Great vue! Great exercise to get there! Perfect spa! I would definitly recommand this appartment. Amélie
Patrick
May 2016
Very welcoming. Excellent driver from the airport who was very friendly, informative and spoke perfect English. The apartment is absolutely beautiful with stunning views of the harbour, two balconies, and outside dining area, hot tub and even a massage chair. It was clean and had all the little amenities like an iron, hair dryer and washing powder which was really helpful. Location is great 20 minute walk from the old city, 5 minute walk from the harbour with easy public transport. As other reviews mentioned there are a lot of stairs, but that could be said of the whole of Dubrovnik! If you don't like them I would suggest a flatter holiday.
September 2015
This place is beautifully upgraded. We had a great time staying there for 3days. The only thing that we didn't like was that it had a lot of stairs. 50 stairs from main door to our apartment.and from major street to front door was another 100 stairs. Even though it's a beautiful place I won't recommend it to elderly and ppl with medical condition. Faranak G.
September 2015
The apartment was exceptional. Very clean and modern, with excellent facilities. Hedera reception staff were very helpful and easy to deal with. I'd highly recommend staying at Hedera Estate. Linden K.
September 2015
It was so easy to stay at Hedera! Their reception team is amazing - very professional and organized and helpful. They drove us up to our apartment, which was spotless, huge, and well (website hidden) washer drier hot tub and a massage chair! We were also given a ride to the airport - for only a few extra euro. It was awesome. Only negative is it was a 20-30 minute walk from old town. If you want to stay in old town or very close to old town, this isn't your place. But we loved it. It was a luxurious space with an INCREDIBLE view. Great outdoor space and amenities. Very private. Thumbs up! Maureen A.
August 2015
L'host è molto gentile e disponibile, l'appartamento è molto bello e pulito ma, come segnalato dal'host stesso, è distante dalla città vecchia quindi la posizione non è molto comoda. Ilaria B.